Gone are the days when ideation, execution, and delivery of an application took months or sometimes years. Building cloud-native applications with low-code development platforms is the quickest way to bring innovative ideas to market and achieve desired business value in the present day. In a digital world that is undergoing rapid change, many organizations have realized this and now live by it. IDC predicted in a 2020 Futurescape report that more than 90% of apps will be cloud-native by 2025. Furthermore, 60% of new applications will be developed with no-code/low-code platforms by 2023, up from 30% today.
Why are cloud-native applications important?
Cloud-native applications are those that are designed specifically for the cloud and take advantage of its infrastructure, services, tools, and technologies. These applications typically employ an architecture based on microservices. They are highly adaptable, resilient, scalable, and optimized due to their architecture and underlying infrastructure platform – making them ideal for today's rapidly changing and digital-first world.
Cloud-native applications can accommodate and manage loads (peaks and troughs) seamlessly and affordably. They are reliable and can be easily maintained without disrupting business operations in the event of an unforeseen event.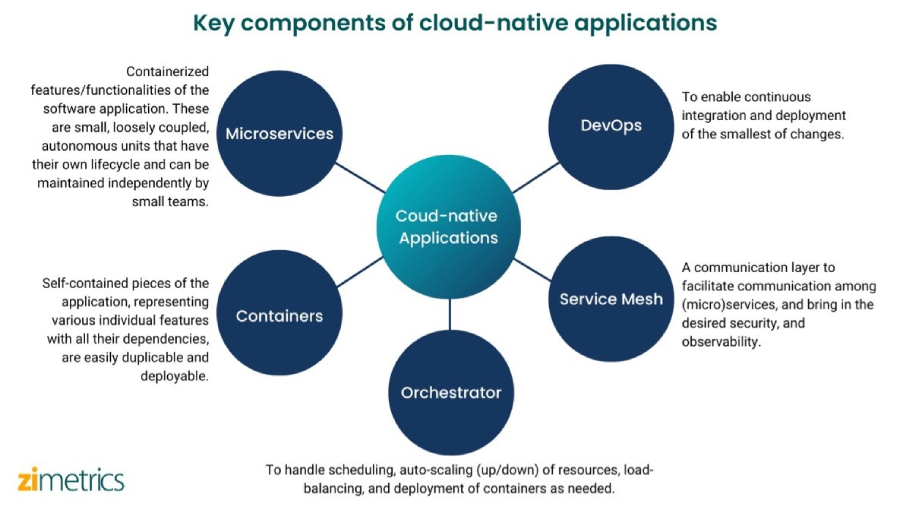 Cloud-Native Meets Low-Code Application Development (LCAP)
Setting up a cloud-native infrastructure, i.e., bringing all these components together, placing them in the right place, and ensuring that they work seamlessly to deliver the desired business value, is a complex, time-consuming, and labor-intensive task.
In addition, the initial setup expenses can be incredibly expensive.
Given the complexity and expense of setting up a cloud-native infrastructure, it is preferable to rely on conventional development methods and technologies. It may also result in enterprises losing market share to rivals with faster time-to-market. When organizations choose to develop cloud-native applications and invest in establishing the necessary infrastructure, they anticipate a quicker return on investment (ROI).
This is where low-code application development comes to the rescue. Low-code platforms offer a visual interface for assembling reusable components, thereby facilitating citizen development. Low-code development outperforms traditional development in terms of delivery performance; this is not news. The automation of the maximum number of lines of code accelerates the development and delivery cycles. Communication and collaboration between developers, designers, and business stakeholders improve as time spent on manual coding decreases. Additionally, it enhances the characteristics of cloud-native applications and provides much-needed agility.
Given the complex interrelationships between microservices in a typical cloud-native application, a low-code development strategy can facilitate any necessary changes while preserving the proper coordination across the entire program. This is especially advantageous given the complexity of the interrelationships between microservices in a typical cloud-native application.
Suggested Read: Why Low-Code Platforms are the Key to the Future OutSystems, the world's leading high-performance low-code application development platform, has introduced a cloud-native application development platform, OutSystems Developer Cloud (ODC), formerly known as Project Neo. This platform provides all the necessary components already packaged behind the scenes and enables organizations to immediately begin developing cloud-native applications. On top of Amazon Web Services (AWS) native cloud services, it supports Kubernetes, Linux containers, and microservices.
With OutSystems Developer Cloud, organizations don't have to do the hard work of setting up infrastructure, and the well-organized architecture is built in. All of the underlying complexities are handled by the platform, allowing the team to be more creative and efficient. Learn more about OutSystems Developer Cloud here.
Conclusion
In today's competitive corporate environment, adopting an agile approach to application development is critical. Utilizing low-code platforms to build cloud-native architecture makes development modular, increases productivity, enables citizen development and reduces time-to-market. Several cloud-native titans have discovered that low-code platforms are the key to advancing their cloud-native strategy. As a result of the paradigm shift, the entire hierarchy must adopt a new way of thinking. To start your journey towards cloud-native low-code application development, drop us a note here. Our team of OutSystems experts will be happy to help.